Starting to write this post knowing that it will never be complete. Or correct.
Why? Because these past 5 years has been so full of events that it's too much for my poor head! At the beginning were documented as hand-written lists of names and shaking bad quality videos :) Though I will be editing this on and on again, lot's of typos I'm sure, too.
Okay, here it goes:
2009
Aida Prima Cali from Spain workshops & private workshop for Etnofitness teachers. Did some other stuff than teach as well, lol! No words. (Aida made that video while I was sleeping, when I woke up it was on YouTube…)
2010
Breezes (that's me!) first regular dancehall workshops started (check the cutest video feat. my first Jamaican teacher, Mystic Davis), considered as the start of Bubblin' Moves. 25 to 35 people attended every time; we danced routines to Mavado- Starlight (From nothing to something!), Mavado- Hope and pray, among others. Did some crazy four-hour workshops with themes like; social/party dances of years 2000-2010.
Dhq Xtelle Finland's Dancehall Queen 2010 teaching dancehall queen style workshop.
2011
That year I brought Selectas in the dance studio; VG+/Komposti Sound, Pouta Sound, Kuuma Sound (queen style hotness "All Out" indeed…Check the video!, Chappa/Forward Squad were playing in various theme workshops; In January 2011 the hottest song was definitely Mavado Starbwoy!
Videoshoot workshop w/ Chappa, a workshop where we drank rum while dancing (is that legal even?) w/ Pouta Sound, latest party dances w/ VG+ (we were wearing WE LOVE VG+ shirts and the biggest dance was obviously the Cowfoot by ShellyBelly!)
Dancehall Bootcamps started summer 2011; four hours of dancehall every day for a week! Last day was traditionally with live selections, and rum :) Since then, Bubblin' Moves has had two Dancehall Bootcamps every summer with guests from Europe and Jamaica.
Melpo Mellz (DoubleTrouble, SWE) started her regular visits to Bubblin' Moves in August. That was the peak time for Ovamarz's dances Now u see me, now you don't and Step Ova.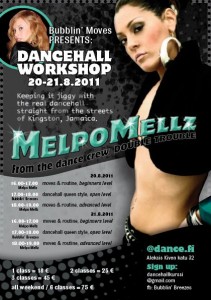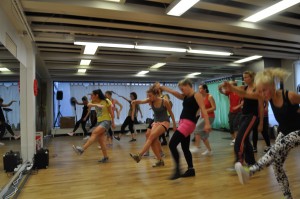 In November I invited Blackout crew from Sweden to teach a workshop first time at Bubblin' Moves. Found some blurry, bad audio quality videos of that too :) How many familiar faces can you spot?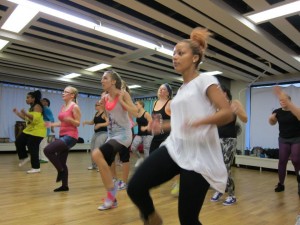 In December we danced at Bye Bye Breezes-workshop, as I was leaving for Jamaica for a little longer this time.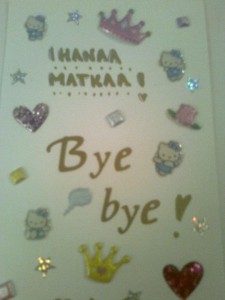 2012
Breezes spent 5 months in Kingston in 2011-2012 while classes were on in Helsinki full force. Dhk Shortman (UK) was so close to come to Helsinki to teach, but his flight was delayed and we had to cancel the whole thing :( What a great dancer and teacher we missed!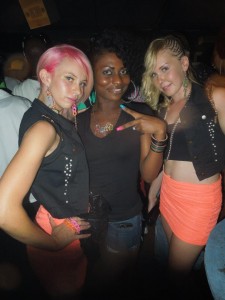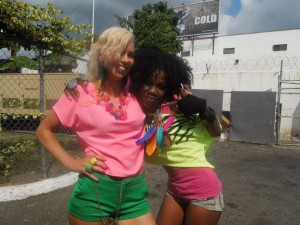 Same goes to Syrin Zero from big bad NY City! Unfortunate circumstances made his trip to Finland impossible. One day, one day it will happen! Big respect to Syrin and Zero Nation always.
Dancehall Bootcamps was up again June and July 2012 (videos edited by me, I'm truly sorry, lol!). We did little something else than dancing, too…
We continued with the theme workshops: There was a Beenie Man workshop, Elephant Man workshop (over 40 dancers!), and RDX workshop just before their shows (Bubblin' Crew were the official dancers for RDX and Elephant Man! Best moments!) in Helsinki.
The first Jamaican dancer to teach at Bubblin' Moves was Latonya Style (DanceJA), who came in December and all her workshops were naturally full! It was the time of Pretty Wine, Bubblin' Crew & QFE did our own little Pretty Wine clip as well :)
2013
2013 was a crazy, or crazy good year for dancehall workshops in Helsinki!
We had the traditional Welcome back Breezes! workshop after my return from Kingston.
Then we had our first Jamaican guest male teacher: Andre Cosmic (Elite Team, JAM).
From Europe we continued with Dee (Deekillah, France) with in total five house, hiphop and body work & formation workshops that year.
Then Melpo was back for Bootcamps and Cosmic came back after just a couple of months!
2013 we started together with Studio Tambor the Bootycamp-concept bringing reggaeton, salsa and dancehall lovers together to shake their booty for the name of….Booty!
In August Enough Crew came back.
In October it was time for the Spiritual Rifical Sri Lanka! There were 50 students attending his workshop, and I gotta admit that was one of the greatest moments for me as I felt it was as big thing for my students as it was for me having finally the boss of the Rifical Team in Finland.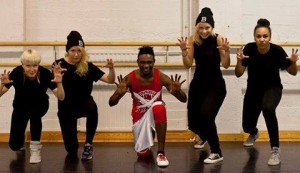 November the famous Blacka di Danca taught two workshops at Bubblin' Moves and people absolutely loved him! He actually came back to Helsinki for one night to just party with us and Latonya Style in December again. Oh those dayzzz!
The one and only Queen Latesha taught a hardcore dancehall queen workshop in November as well.
The grande finale of 2013 dancehall workshops was Latonya Style's (DanceJA, JAM) four workshops, we toured different cities with her, too.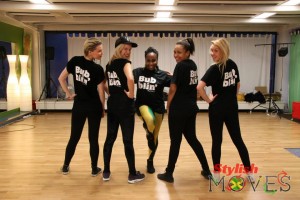 See the compilation of Dancehall workshops 2013 here. Wow – that was a busy fall!
2014
The year started traditionally with Welcome back Breezes– workshop where I heard people had been speculating if I had had a little too much beer in Jamaica as I had grown a tiny belly :D Well, the case was that Baby Lumi was already wanting to make people know her existence!
Bootycamp was on in February as well again!
Spring of 2014 was definitely owned by Elite Team:
In April Andre Cosmic taught a studio full of Dancehall enthustiastics again.
Followed by my dear friend and dance teacher Keemi Elite who came to Finland for the first time in May.
The Dancehall Bootcamps had great visiting teachers: Jacqueline Enough and Kimiko Versatile in June, Craig Black Eagle and Melpo Mellz in July.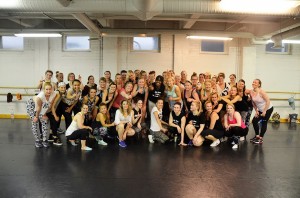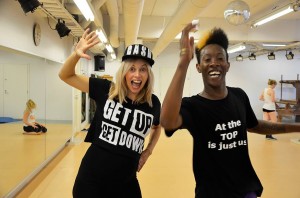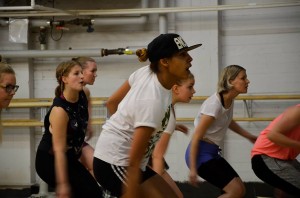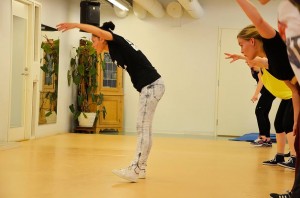 In September Stephanie Enough was here to teach my classes a few times as well, resulting in two powerful choreographies: Ride it & Shovel it.
Melpo came to teach some great classes here during that fall, too.
Fall season started with Boysie Roses from Black Roses, what an honor to have a dancer who danced in the same crew with Bogle, Mr. Wacky himself! I attended the first workshop myself, don't really remember a thing as I have just had my baby three weeks before :)
2015
Damion BG moved to Finland, he was not in Helsinki, but close enough to be able to teach workshops at Bubblin' Moves both in January and in February 2014! Some serious sweating was happening!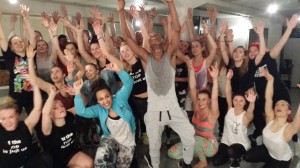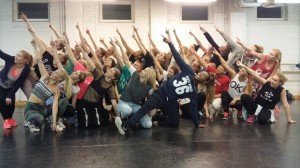 In February it was time for Dancehall evolution – Oshane Ovaload Skankaz visited Finland for the first time!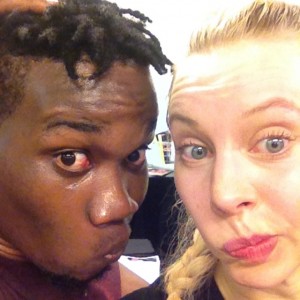 (Okay, there might have been a better pic… But this one is funny!)
Keemi Elite was back in March, and was wishing for snow but Finland let him down, it fell the day after he left Helsinki.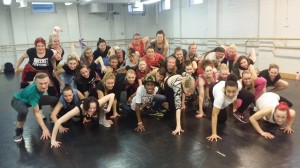 Alevanille from Italy brought sunshine to Helsinki in April with her uplifting energy and attitude.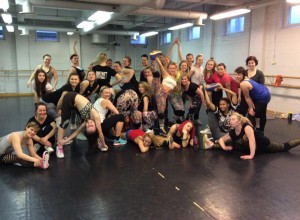 In May Cosmic Elite came to teach a workshop and celebrate the 1st of May, "Vappu" with us, here he is chilling with Lumi at Bubblin' Sophia's party.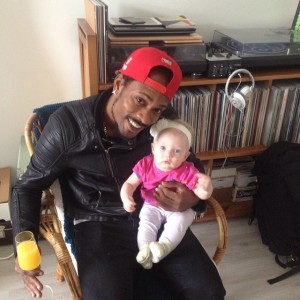 For the Dancehall Bootcamp we had the energetic Kimiko Versatile back again.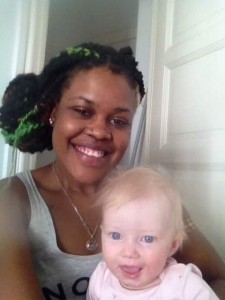 Queens of Everything- crew's Dhq Netta and Wili the Wild came back from Jamaica in August, and we started the semester with Kick-Off Workshops.
Something new was up when my most influential teacher Nicky Trice (Rifical Team, JAM) and KillaBean Versatile (Supreme Blazers, JAM) came here together in September!
Oh boy, we did have fun and felt so inspired! And fooled around a bit, too…
Queen Latesha followed the guys two weeks later teaching again with great energy, the routine was one of my favorites!
Latonya Style finished the Dancehall workshop year 2015 with her Stylish Moves workshop. Pics are coming up! I did an interview with her, which can be read here.
Wow. I think that was all?
Or not… Other than all the mentioned workshops, we did have visiting teachers like Sami Vallius (hip hop), Kaisa Nieminen (hip hop), Hanna-Maija Pääkkönen (reggaeton), Saku Räsänen (krump), Venla Vuorio (vogue), Ramona Ramo (break), SakiOne Nisula (break). And last but not least our own Miss Annabella, Queen Leena, Josie, Wili the Wild, Dhq Netta and me, myself and I – local heroes need to be thanked as well <3 And probably 100 others that are not mentioned, sorry about that. I still thank you for your time and sharing your knowledge with us!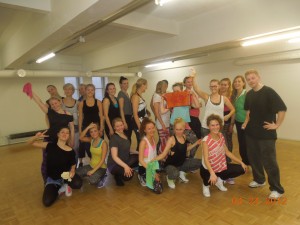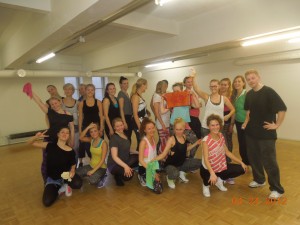 It's been 58 workshops approximately, if I count Dancehall Bootcamps (lasting one week) being just one workshop and don't count any separate visiting teachers classes along, just workshops.
That's a lot of events. Almost 12 every year for five years now. I have loved organizing them and have such a great memories of them! I wanna thank all the devoted students that has been coming to learn and have fun during these years.
But I'm also pretty tired, and need to focus on other projects, like getting my knee back to functioning now (had an complete ACL tear in May and surgery in July). I'm not saying no more workshops ever again – however I will take a break from organizing them for a while.
I' d love to participate to workshops, though! So, hope there are people in Finland who can continue this work. Challenge is out!
Biggest thank you for every one who have helped me with these events. And the tour organizations (DanceJA! TopUp! Bobb! Dextyle!), and naturally thank you, you magnificent teachers and dancehall ambassadors who have visited us! Love, love, love you!
XOXO,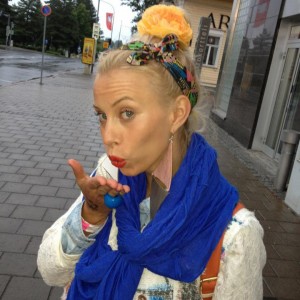 Meri/ Bubblin' Breezes